Broken Garage Door Spring Repair & Replacement Services!
DoorMaster is the leading garage door repair & replacement company in Canada, providing fast and efficient services. Garage door springs play an important role in the working of the garage door.
They help control the raising and lowering of the garage doors. This involves a lot of pressure and the springs become subject to a lot of wear and tear over the period of time.
We know how much damage a faulty spring can create, leading to a lot of inconvenience for its owners. Therefore, it is advisable to get them inspected on a regular basis for smooth functioning.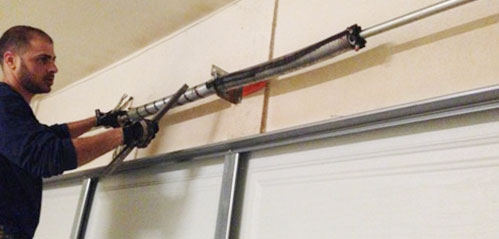 DoorMaster- The Local Garage Door Expert For All Your Garage Door Concerns!
Same Day Emergency Services
A damaged spring can disrupt your day-to-day activities. This can be really frustrating as you may have to manually pull the garage door every time. With DoorMaster, you don't have to wait for even a single day as we offer same day solutions to all your emergency garage door problems. Our service van is equipped with all the necessary tools to give same day solutions to your faulty garage door spring.
List Of DoorMaster Services
At DoorMaster, we offer a wide range of repair and replacement services for garage doors and its parts. We have the spare parts of all the leading brands to replace your faulty garage door parts. Our services are inclined to provide quick support to our customers for all their garage door issues.
Garage door installation, repair and replacement
Garage door spring repair and replacement
Deal with every make or model of any brand
24/7 availability throughout the year
Garage door inspection & maintenance services
Overhead garage door springs
Garage door safety services
Renovation and replacement services
Just to name a few
Spring Repair is Not a D-I-Y Thing!
Garage door springs have a lot of potential energy as they are in the stretched form. Failing to deal properly with a faulty spring, can seriously injure you.
You got to have the knowledge and experience to handle them. Since they work under a lot of pressure and can break mid-way, it is advisable to call out the professionals for dealing with the faulty or broken springs.
Why Go For DoorMaster?
There are a lot of garage door repair companies in Canada but nothing comes close to DoorMaster in terms of quality. Our professionals are well experienced to deal with any garage door issues.
We never overcharge our customers for anything, carrying out fair practices. We offer quick and efficient results and never compromise on quality. Our technicians know how to get the job done right the first time.
Broken Garage Door Spring? Call Us For Fast And Efficient Repair or Replacement!