Garage Door Keypad Repair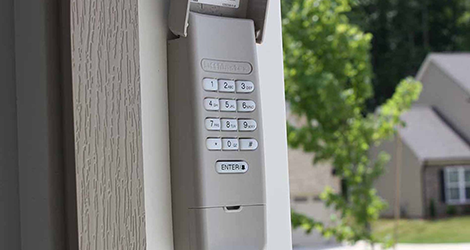 Most people prefer a remote for opening and closing garage doors. But many disregard the added safety and efficiency provided by having a keypad lock on the garage door. The keypad requires a special code to work. So, it adds an extra layer of protection for your family and valuables, plus it prevents unwanted access to the garage.
We provide you with services for keypad repairs and replacements. The keypad with your garage door remote is an important part. With the keypad, you get added safety to protect your valuables. Unfortunately, when it breaks, it becomes a nuisance.
At DoorMaster, we have a team of skilled technicians who are well-versed in repairing all types of garage door keypads. Whether you have a wireless or wired keypad, our experts can fix it quickly and efficiently.
Common garage door keypad issues we can fix include:
Keypad not working
Error messages on the keypad
Keypad buttons sticking or not responding
Battery replacement
We understand how frustrating it can be to have a malfunctioning garage door keypad. That's why we offer same-day repair services to ensure that your keypad is up and running again in no time. Our technicians will diagnose the issue and provide you with a transparent quote before starting any work.
Our services include:
Repairing and replacing damaged keypads
Re-programming keypads
Troubleshooting and diagnosing issues
Battery replacement
We use only high-quality parts and equipment to ensure that your garage door keypad is functioning properly and efficiently. All of our services are backed by a satisfaction guarantee, so you can trust that we will get the job done right.
Contact us now to schedule your garage door keypad repair service