Garage Door Parts and Accessories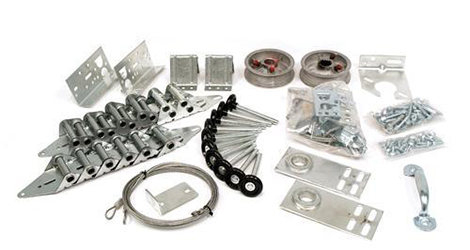 Garage doors and their opening systems contain many different parts to operate fully. These small components can break or collect damage from regular wear and tear. This causes issues with opening or closing the door properly. The cost of garage door spare parts repairs can be depending on the broken part. In some circumstances, you may be better off replacing the component than repairing it. Call DoorMaster today, we're the leading garage door spare parts service provider. We can repair any garage door parts for a variety of garage door styles as well as quickly replace them with a new installation if needed.
At DoorMaster, we offer a wide range of high-quality garage door parts to ensure that your garage door is always working properly. Whether you need a replacement spring, track, roller, or any other garage door part, we have what you need to keep your garage door running smoothly.
Our experienced technicians can help you identify the specific parts you need for your garage door, and we can provide you with the best options available on the market. We offer a wide range of garage door parts, including but not limited to:
Remote Controls
Weather Stripping
Don't let a broken garage door part prevent you from using your garage. At DoorMaster, we have the parts you need to get your garage door working like new again. We prioritize your safety and always provide quality results at affordable prices.
Contact us today to order your garage door parts or to schedule a service appointment.