Classic short or long panel steel garage doors.
Available In A Wide Range Of Looks And Colors
Clopay's Classic™ Collection steel doors complement every home so there's no sacrificing style for strength, durability and comfort
Overview
Design
Construction
Brochure
Installation & Care
Videos
Overview
Overview
Clopay's® CLASSIC™ collection provides the traditional raised-panel style garage door in a wide range of construction and design options, allowing you to take the time-tested, classic garage door look and make it your own. Our CLASSIC™ garage doors can complement any home with the ability for homeowners to customize door sizes and choose from a variety of decorative top window inserts and specialty glass for natural light and privacy. These durable steel garage doors are available in 3, 2 or 1-layer construction with multiple insulation options.
What Is A Raised Panel Garage Door?
Raised panel garage door styles are what most people imagine when they think of a traditional garage door — a showcase of long and short panels, windows and numerous color options. Raised panel garage doors will allow you to draw attention to your home's architecture with a focus on depth and symmetrical patterns.
Do Insulated Garage Doors Really Make A Difference?
To see additional images for uncommon garage door sizes, use our online QuickDraw tool.
Construction Overview
Short, long and flush panel steel garage doors.
Durable steel garage doors available in 3-layer construction.
Insulation options include 2″ or 1-3/8″ Intellicore® polyurethane, 2″ or 1-3/8″ polystyrene or 1-5/16″ vinyl backed polystyrene insulation available. Insulated door R-values from 6.3 to 18.4.
The steel skins are protected by the use of a tough, layered coating system, which includes a hot-dipped galvanized layer and baked-on primer and top coat.
WINDCODE® reinforcement product available for high wind load applications. (Click for details.)
Design Overview
Available in short and long raised panel design options. The three-layer Premium doors have a defined Elegant raised panel design.
14 factory finish paint colors available, including Standard White, Mocha Brown, Ultra-Grain® Classic Cherry Finish and more.
A wide variety of window options are available, including decorative, architectural, and double-top window sections.
Multiple glass options available including acrylic, insulated, frosted, seeded, rain and obscure.
Window grilles are removable for easy cleaning.
Calculated door section R-value is in accordance with DASMA TDS-163.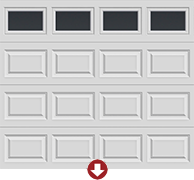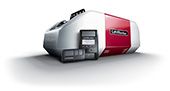 LIFTMASTER® ELITE SERIES™
Clopay Recommends LiftMaster® Elite Series® openers for these garage doors. These openers have a range of features that truly make lives easier.
Design
Construction
Brochure
Installation & Care
Videos
Budget Friendly Garage Door Services
The largest moving part of your home i.e. your garage door, holds quite some value. Operating throughout the year, it is subject to some repair or replacement. Door Master is one of the leading garage door service provider.
We are just a call away, when it comes to serving our customers. Whether you want to install a new garage door or want some repair or replacement service for your garage door, Door Master is always there for you.
24/7 Emergency Services
We know, how inconvenient it can get, when your garage door fails to operate due to some reason. Therefore, we provide 24/7 emergency services to all our customers as we don't want any of our customers to suffer. Our service van is equipped with all the latest tools to give you fast and efficient emergency services.
Looking For The Best Garage Door Repair Professional? You Are At The Right Place!
Door Master Garage Door Services
We offer garage door service for each and every kind of model and brand. Our technicians are skillful enough to handle any make or model. We don't believe in just completing our task but make sure,our customers have the best quality service experience with us.
Garage door installation
Garage door maintenance
Garage door panel replacement
Garage door sensor repair or replacement
Bent or damaged tracks
Broken garage door springs
Garage door spring repair & adjustment
Motor installation
Garage door keypads & remotes
Garage door weather stripping
Garage door original spare parts
Gear replacement services
System conversion services
Garage door hardware & parts
And a lot more
Experience
It has been a long time since our first garage door service. Our professionals have gained a lot of experience in this field and have gained all the skills to deal with any make or model.
Pricing
When it comes to giving quality service at the most affordable prices, nothing beats Door Master. We demand only what we deserve for our services and never overcharge for anything.
Call Us For 24/7 Emergency Services To Get Those Quick Garage Door Fixtures!